Posted on June 12, 2019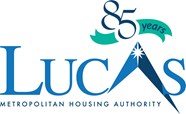 Since 1933, Lucas Metropolitan Housing Authority (LMHA) has been caring for the housing needs of the Toledo community by providing affordable housing to adults, seniors and children. What might not be as well known is that LMHA also does significant work aimed at helping its residents achieve self-sufficiency.
Celebrating its 85th anniversary, LMHA wanted to leverage this milestone with a significant event to both highlight the organization's ongoing work and make the community aware of LMHA's exciting new programs. The event would serve as an opportunity to educate the community about the full range of services LMHA offers and celebrate the partnerships with other vital community organizations that help make those services and programs possible. Current program initiatives include:
Combating infant mortality;

Feeding Lucas County children;

The Health Profession Opportunity Grant, an education and training program for occupations in the healthcare field;

2Gen, a multi-generational program that addresses poverty in families with young children;

Housing First, a homelessness program that offers permanent supportive housing;

The Hope Project, a program aimed at helping individuals maintain housing while addressing mental health and substance abuse issues.
With these goals in mind, LMHA worked with Communica to develop a special 85th-anniversary celebration centered around the theme "Onward and Upward, Continuing the Journey from Good to Great." Communica handled the event planning and creative services for the celebration in addition to media relations.
We emphasized three core elements of LMHA as we planned the event: its history, its ongoing work and its notable accomplishments through 85 years of community engagement. A large historic timeline was displayed at the event and gave attendees a wonderful glimpse of the significant contributions LMHA has made to our community.
The 85th Anniversary logo and theme were displayed throughout the venue and on all of the event's signage and collateral.
One of the highlights of the evening was keynote speaker Judge Glenda Hatchett. Judge Hatchett presides over the nationally syndicated television show, Judge Hatchett, (Sony Pictures Television).The Judge Hatchett Show was nominated for two daytime Emmy awards for outstanding legal/courtroom program in 2008 and 2009. Judge Hatchett has also been active with housing authorities across the country and provided a unique and inspirational outlook on the importance of these programs.