Posted on June 12, 2019
Our client and Toledo Warehouse District neighbor Knight Insurance Group had their best year ever in 2018! And, they are celebrating their 160th Anniversary this year in the insurance industry. We couldn't help but spotlight this momentous accomplishment. We have worked with them for the last 2 years—growing their brand with robust and extremely successful digital ad campaigns. Using ads across various digital platforms, we focused on highlighting their unique approach to insurance, known as Knight Vision.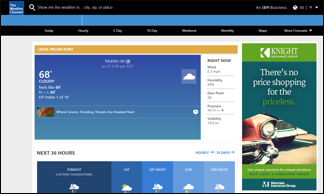 Why their best year? They are on a path to grow by 20 percent of their previous year's revenue. Their business insurance unit grew by 13 percent over last year and even added three new sales people to the team. According to Diane Keil-Hipp, Knight's COO, "We had great results on our service side too! The best results in 20 years actually, with 96 percent retention of personal clients." The industry average is 87 percent.
Looking toward the future, Diane is very positive. She said, "In 2019, we have similar growth and retention goals. We are excited about what we can achieve with the team we have in place."
We are thrilled for Knight Insurance and look forward to partnering with them for continued success!